training
06.03.2021
Reals Abschlusstraining vor Atlético: Benzema fit, Vier fehlen
Zinédine Zidane kann aufatmen: Karim Benzema ist fit und steht für das Derbi Madrileño zur Verfügung. Nachdem der 33-jährige Mittelstürmer am Freitag ins Mannschaftstraining zurückkehrte, nahm er auch am Abschlusstraining teil – ein Einsatz ist nun möglich.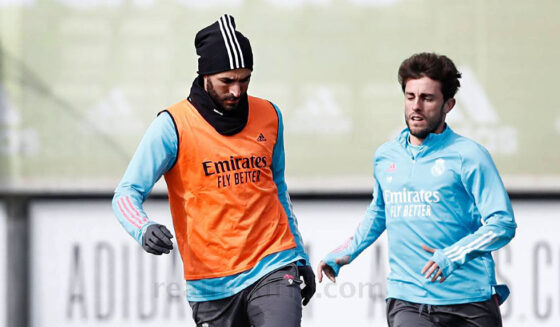 06.03.2021
Real Madrid continue preparations for the derby
derbi preview
05.03.2021
Atletico Madrid and Real Madrid will do battle in the derby with two of LaLiga's greatest ever strikers struggling - Luis Suarez is five games without a goal and Karim Benzema is not fully fit... but the battle of the veteran No 9s will prove crucial
They have been the best number nines in Spain for the last decade, and on Sunday they ought to be the deciding factors in the Madrid derby that looks set to shape the title race run-in. Atletico Madrid and Real Madrid are just hoping Luis Suarez can get back in the goals and Karim Benzema can get back on the pitch in time for the title showdown. Benzema is Real Madrid's top scorer again this season but has not played in the last three and only returned to training on Friday - while Suarez has not scored in his last five matches. The two experienced aces are certainly not in the best moments of their season, but their teams will need them more than ever. Atletico will be eight points clear of Real Madrid with a game in hand if they win on Sunday.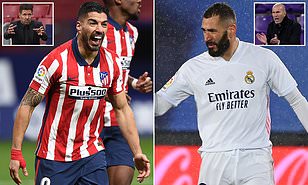 05.03.2021
26. Spieltag: Derby in Madrid, Barça trifft auf Osasuna
Der 25. Spieltag hatte was von "LaLiga-Playoffs" (Erster gegen Sechster, Zweiter gegen Fünfter, Dritter gegen Vierter), aber "Jornada" 26 kennt nur eines: Derbi Madrileño! Der Erste empfängt Sonntagabend den Dritten, wobei Real Madrid eigentlich punktgleich mit dem Tabellenzweiten aus Barcelona ist.

Die Katalanen wollen der Nutznießer des Spieltags sein, müssen aber Samstag beim zuletzt formstarken Osasuna bestehen. Ebenfalls spannend: Kleines Derby in der Region Valencia zwischen Valencia und Villarreal am Freitagabend. Und zwischen Cádiz und Eibar geht es um den Klassenerhalt.