vorbericht
09.05.2021
Madrid als lachender Dritter? Sevilla will Reals Tabellenführung verhindern
Königliche Aussichten! Aufgrund des 0:0 zwischen Atlético und dem FC Barcelona kann sich Real Madrid die Tabellenführung in LaLiga schnappen. Dazu braucht's allerdings drei Punkte gegen einen der derzeit ungemütlichsten Gegner im spanischen Fußball. Wer wird der lachende Dritte nach dem Top-Spiel im Camp Nou: Real oder Sevilla? Alle Infos zum 35. Spieltag um 21 Uhr.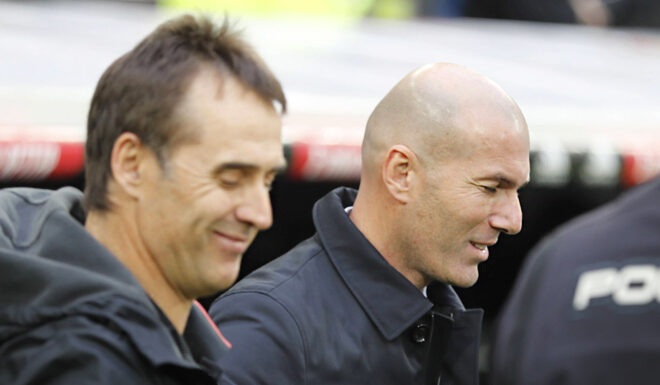 09.05.2021
Barcelona 0-0 Atletico Madrid: LaLiga title hopefuls draw a blank in tense contest at the Nou Camp with Real Madrid the only winners from stalemate
Barcelona and Atletico cancelled each other at the Camp Nou and that meant a win-win for Real Madrid ahead of their last four games of the LaLiga season.
Real Madrid-Sevilla: all eyes on LaLiga top spot
Alfredo Di Stéfano plays host to a season-defining clash in LaLiga this evening. Following yesterday's draw between Barcelona and Atlético, Real Madrid have the chance to shoot to the top of the table if they get the better of Sevilla on matchday 35 tonight (9:00pm CEST). Zidane's men sit three points off the summit thanks to their superior head-to-head record against the rojiblancos.
Real Madrid-Sevilla: a por el liderato
Una victoria en el Alfredo Di Stéfano colocaría a los de Zidane en el primer puesto de la clasificación (21:00 h; Movistar LaLiga).

El Alfredo Di Stéfano acoge esta noche un partido clave en el devenir de la Liga. Gracias al empate de ayer entre el Barcelona y el Atlético, el Real Madrid tiene la oportunidad de ser líder si supera esta noche al Sevilla en la jornada 35 (21:00 h; Movistar LaLiga). Los de Zidane se encuentran a tres puntos de colocarse en lo más alto de la tabla, ya que tienen el goalaverage a su favor ante los rojiblancos.