EM 2020 news
TODAY 22.06.2021
EM-Tag 12: Modrić hofft mit Kroatien noch aufs Achtelfinale
Die ersten Teams haben sich bereits sicher für das Achtelfinale der EURO 2020 qualifiziert. Und Luka Modrić und die kroatische Nationalmannschaft würden am Dienstag gerne nachziehen. Für den Vizeweltmeister von 2018 geht es um 21 Uhr im Hampden Park in Glasgow gegen Schottland. Zeitgleich duellieren sich in der weiteren Partie der Gruppe D im Londoner Wembley Tschechien und England.
21.06.2021
Hazard und Belgien sorgen für dänisches Happy-End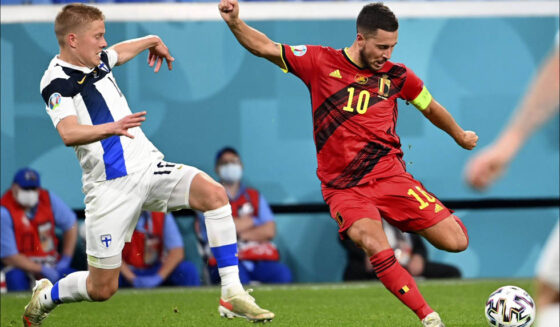 Die belgische Nationalmannschaft hat am Montagabend auch das dritte Gruppenspiel für sich entscheiden. In St. Petersburg spielte das Team von Roberto Martínez zwar über 90 Minuten fast ausschließlich auf das finnische Tor – die Treffer zum verdienten 2:0-Erfolg fielen jedoch erst in der Schlussphase.
21.06.2021
Alaba liefert Traum-Vorlage: Österreich steht im Achtelfinale
Die österreichische Nationalmannschaft steht erstmals im Achtelfinale einer EURO! Das Team von Trainer Franco Foda setzte sich im finalen Spiel der Gruppe C in Bukarest mit 1:0 gegen die Ukraine durch. Real Madrids Neuzugang David Alaba schlug in der 21. Spielminute eine traumhafte, scharfe Ecke von links, bei der Christoph Baumgartner von der TSG Hoffenheim nur noch seinen Fuß hinhalten musste und so die Führung für Österreich herstellte.
länderspiele em 2020
10.06.2021
EM-Gruppenphase: Wann die Stars von Real Madrid im Einsatz sind
Jetzt wird sie absolviert, die Europameisterschaft. Nachdem eine Austragung im Sommer 2020 aufgrund der Coronavirus-Pandemie nicht möglich war, rollt der Ball nun mit zwölfmonatiger Verspätung – erstmals in insgesamt elf Nationen. Am 11. Juni fällt der Startschuss, am 26. Juni beginnt die K.o.-Phase, am 11. Juli findet das Finale statt.
REAL TOTAL sagt, welche Profis von Real Madrid an dem Turnier teilnehmen und wann sie mit ihrer jeweiligen Nationalmannschaft im Einsatz sein werden.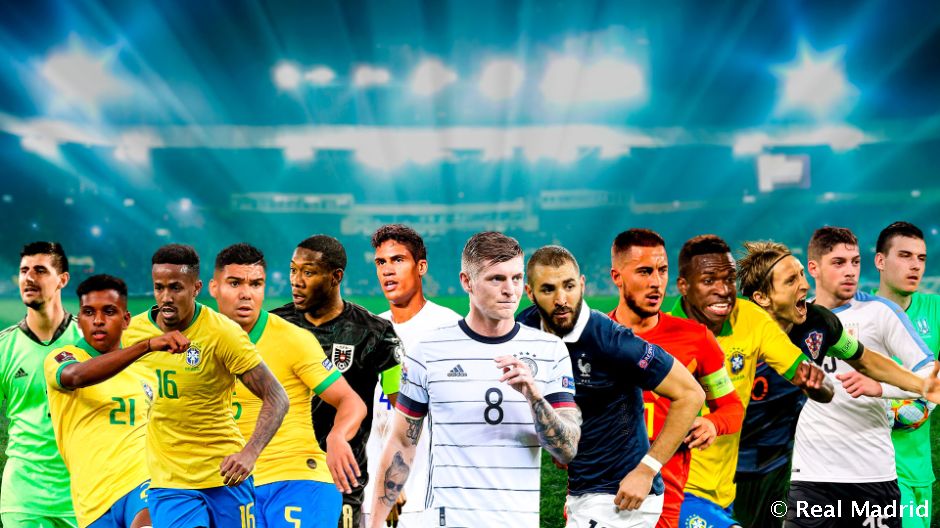 ---
02.06.2021
Schedule and results of madridistas on international duty
Thirteen Real Madrid players have been called up by their national teams. Toni Kroos, Raphaël Varane, Karim Benzema, Luka Modrić, Thibaut Courtois, Eden Hazard, David Alaba and Andriy Lunin are set to feature in EURO warm-up games, whilst Fede Valverde, Casemiro, Militão and Vinicius Jr. will be involved in qualifiers for the Qatar World Cup. Meanwhile, Rodrygo will be in friendly action for Brazil U-23s.
02.06.2021
Horarios y resultados de los madridistas convocados con sus selecciones