Vorbericht
07.08.2020
Geforderte "Remontada" gegen ManCity: Macht "ABH" es möglich?
Endlich wieder Champions League! Über fünf Monate nach dem Achtelfinal-Hinspiel zwischen Real Madrid und Manchester City im Estadio Santiago Bernabéu (1:2) steigt nun das Rückspiel im Etihad Stadium (21 Uhr). Eine derart lange Pause zwischen zwei K.o.-Spielen hat es so in der Königsklasse noch nicht gegeben. Doch die Umstände, die durch die Corona-Pandemie verursacht wurden, haben den Planungen der UEFA einen Strich durch die Rechnung gemacht. Aber nun geht der Kampf um Europas Krone wieder weiter: Erst die noch ausstehenden Achtelfinal-Begegnungen und im Anschluss die Finalrunde in Lissabon, da eine Austragung am ursprünglichen Finalort Istanbul nicht möglich war. Für den spanischen Meister gilt es gegen die "Citizens", eine 1:2-Pleite wettzumachen. Ob Zinédine Zidane gegen die Truppe von Pep Guardiola ein Mittel hat? Ein 2:0, 3:1 oder 3:2-Sieg würden beispielsweise schon genügen – ein 1:0 nicht. Der Sieger der Partie wird es im Viertelfinale am 15. August mit Juventus Turin oder Olympique Lyon zu tun bekommen.

07.08.2020
Manchester City-Real Madrid: in search of a place in the Champions League quarter-finals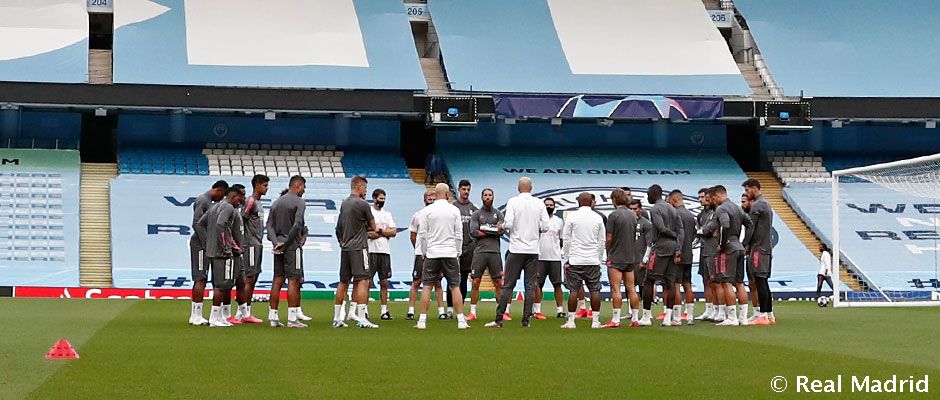 The team has to win and score at least two goals at the Etihad Stadium in order to qualify.
Five months have passed since a ball was last kicked in the Champions League but now the wait is finally over for Real Madrid to return to Europe's top competition. They do so with a huge game at the Etihad Stadium, where the LaLiga champions will take on Manchester City for a place in the quarter-finals (9:00pm CEST).

Pressekonferenz
06.08.2020
Zidane: "Bale bevorzugt, nicht zu spielen"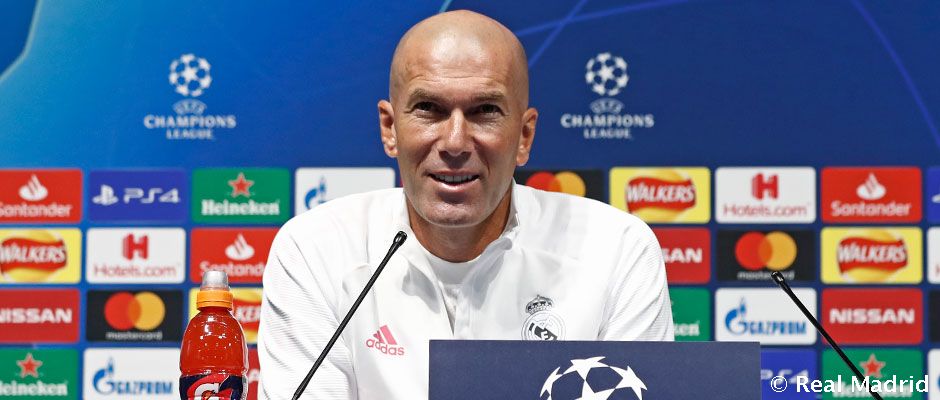 Zinédine Zidane ist als Trainer von Real Madrid noch kein einziges Mal in einer K.o.-Phase der Champions League ausgeschieden. Ist es jetzt gegen Manchester City so weit? Nach der 1:2-Hinspiel-Niederlage ist die Ausgangssituation vor dem Achtelfinal-Rückspiel nicht die beste. Bei der Pressekonferenz vor der Entscheidung im Etihad Stadium spricht "Zizou" über die Herausforderung und Eden Hazards Verfassung. Zudem wird er auf den nicht mitgereisten Gareth Bale angesprochen.

Press Conference
06.08.2020
Zidane: "It's another final for us and we'll try to put on a great display"
Zinedine Zidane appeared in an online press conference from the Etihad Stadium ahead of the final training session prior to the clash with Manchester City: "We're in good shape because we've prepared well to play this game. We know we're at a disadvantage after the first leg, but we're focused and we know tomorrow is like another final. We're going to try and put on a great display".

"I don't know what's going to happen. All I can tell you is that it's going to be a good game of football between two very good sides. We're prepared, we're heading into this first final of four we have ahead of us and we want to go all the way in the competition".