Spielbericht
08.01.2020
Dank Kroos' Geniestreich: Real spaziert ins Supercopa-Finale
Keine Stürmer? Kein Problem! Die königlichen Mittelfeldspieler waren es, die das Supercopa-Halbfinale nicht nur entschieden, sondern auch ganz ungefährdet haben ablaufen lassen: Toni Kroos per Ecke, Isco und ein Modrić-Traumtor straften Valencia für die Passivität.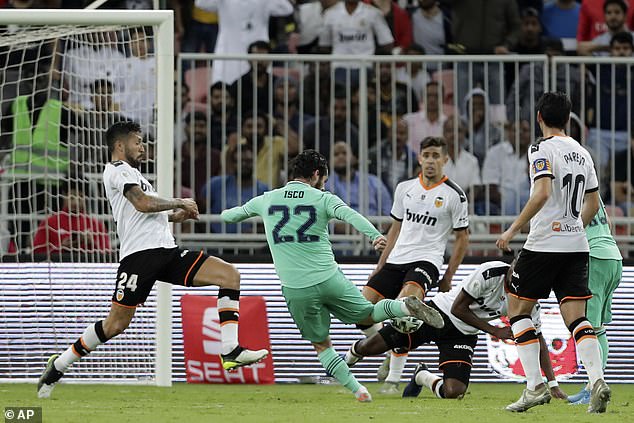 Report Super Copa
08.01.2020
Valencia 1-3 Real Madrid: Toni Kroos catches out Jaume Domenech by curling corner straight into net before Isco and Luka Modric seal Spanish Super Cup semi-final win in Saudi Arabia
Toni Kroos scored straight from a corner to help Real Madrid beat Valencia 3-1 in the Spanish Super Cup semi-final. The Olympic goal completely caught out Valencia goalkeeper Jaume Domenech, who was on the edge of his six-yard box speaking with Francis Coquelin about how the team should defend the set-piece when the kick was taken. Kroos was perhaps aware of Domenech's record as he was also the last goalkeeper to concede from a corner in Spanish football when he allowed Joaquin to score past him last February.