Spielberichte / Reports / Crónica
Spielbericht
24.08.2017
2:1 gegen Florenz: Ronaldo-Hammer entscheidet Trofeo Bernabéu
Real Madrid hat zum 27. Mal die Trofeo Bernabéu gewonnen. In einem kurzweiligen Freundschaftskick setzten sich die Mannen von Zinédine Zidane mit 2:1 gegen den AC Florenz durch. Der im Ligabetrieb gesperrte Cristiano Ronaldo avancierte dabei mit einer Vorlage und einem Traumtor zum Matchwinner.
24.08.2017
2-1: Ronaldo stunner decides Santiago Bernabéu Trophy
Mayoral levelled after Fiorentina's opener and a stunning right-footed belter from the Portuguese striker saw Madrid claim the win.

Real Madrid captured the 38th Santiago Bernabéu Trophy by Movistar as the Whites overcame Fiorentina in an encounter which commemorated the 60th anniversary of the club's second European Cup crown, which they claimed in this very stadium. All of the goals came during the opening period, with the third strike, from Cristiano Ronaldo, worthy of special mention.

Stimmen zum Spiel
24.08.2017
Zidane von Ronaldos Tor angetan: "Das zeichnet diesen Kerl eben aus"
Vorlage und Traumtor: Der in der Primera División nach wie vor gesperrte Cristiano Ronaldo meldet sich vorübergehend zurück und drückt der Trofeo Santiago Bernabéu seinen Stempel auf. Cheftrainer Zinédine Zidane und die Mannschaft zeigten sich begeistert von dem Treffer des portugiesischen Superstars zum 2:1-Endstand gegen den AC Florenz. Die Jungspunde freuten sich zudem über die erhaltene Spielpraxis bei den Profis.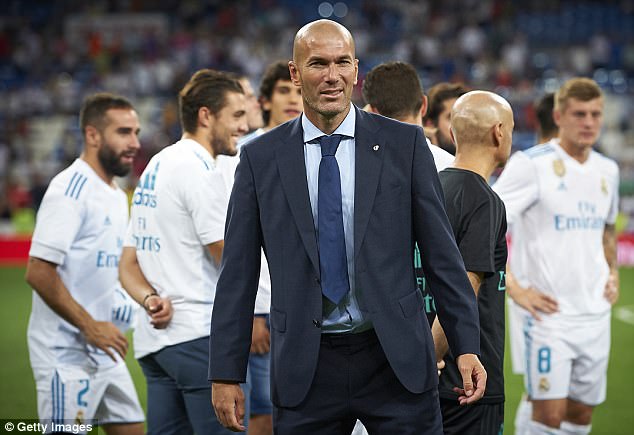 24.08.2017
Real Madrid manager Zinedine Zidane lauds Cristiano Ronaldo after he scores screamer in Fiorentina friendly win: 'That's what he's capable of'
Real Madrid manager Zinedine Zidane has heaped praise on Cristiano Ronaldo after the star didn't let his standards slip in the friendly victory over Fiorentina on Wednesday.